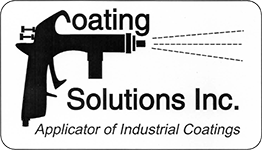 Looking for a coating applications company with fast turnaround times that can service your industry needs in Minnesota? Look no further than our experts here at Coating Solutions, Inc. Since 1995, our family owned coating company has been providing quality coating services to all different types of industries. From aerospace engineering to the food processing industry, Coating Solutions, Inc., has been a source of quality and sustainable coating that has successfully aided in the production of many consumer and industrial products.
Quality Coating Solutions
Being in this business for over 20 years means we can bring about a wealth of knowledge, not just on coatings but on customer service needs. Our company prides itself on providing quality coating solutions so that our customers are always 100% satisfied. Every job we get and every customer we partner with, we treat like it was our own. We always put quality coatings and customer service at the top of our list. It is for this reason that we offer a variety of services that set us apart from other coating companies.
Fast Turnaround Times
When you need a coating service, it's important to know who to call that will get the job done fast while also doing quality work. This is the main reason we have so many returning customers. Our customers know that when you need a product or a piece of machinery coated, Coating Solutions, Inc., will offer the fastest turnaround times in the industry without sacrificing the quality of work. Our turnaround times for jobs are typically 3-5 days. Wanting it even sooner? On certain jobs, we can even offer a 24 hour rush. At Coating Solutions, Inc., let us know your needs and we will work diligently to meet them with quality and efficient turnaround.
Low Minimum Lot Charge
While other coating companies may not do your coatings without a bulk order, we believe that helping everyone get their job done is just the right thing to do. This is why we always offer affordable pricing to our customers, no matter what the lot size may be. Having a low minimum lot charge allows companies to utilize our services and gain momentum for future coatings. Once a customer, always family.
If you are in Minnesota and are looking for a quality coating applications company with fast turnaround times, give Coating Solutions, Inc., a call today. Call us at (651) 762-5700 or feel free to send us an email at sales@coatingsolutions.com.