,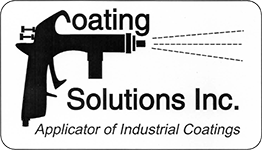 Looking for a coating application company that provides high performing, quality coating? At Coating Solutions, Inc., we beat all other coating application companies through our unwavering dedication to quality and detail. We offer fast turnaround times, low minimum lot charges, and guaranteed quality coating. For over 28 years, Coating Solutions has provided all different types of industrial coatings for industries all over the US.
Setting Us Apart From Other Coating Application Companies
Our goal the day we opened for business was to become "The Number One Coating Application Company in Minnesota" and we are. Today, our customer base is located through the US.  Our team has built a reputation as the "Coating Application Company of choice in the US". We value the work we have completed and the relationships that were built with companies and industries of all types. From food processing industry to the aerospace industry. Our customers are able to trust in our work and enjoy the quality craftsmanship that we add to their products.
Will listen to your needs
Use top quality products
Our commitment to detail
Done right the first time
Affordable prices
Fast turnaround time
Low minimum lot charge
Turnaround Time Typically 3 to 5 Days
In-fact, We pride ourselves in offering a low minimum lot charge. We have learned, sometimes our customers just don't need a  order and that's okay. We will still offer our reliable fast turnaround time so that you can get what you need done. This turnaround time is typically between three to five days.  Next day service is available. Working with a coating application company has never been simpler.
High Quality Teflon® and Other Fluoropolymer Coatings
Ready to learn more about our family owned, customer service driven coating application company? Our product speaks for itself. We offer high quality Teflon® and other fluoropolymer coatings and can help you decide on what coating is right for you, based on your industry and the function that you are looking for. For more information about our coating application company, give Coating Solutions, Inc., a call today at (651) 762-5700 or send us an email at sales@coatingsolutions.com.